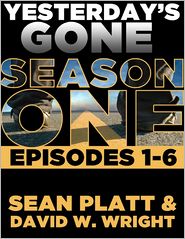 Author's Blurb:
"On October 15 at 2:15 a.m. everyone on Earth vanished.
Well, almost everyone.
A scattered few woke alone in a world where there are no rules other than survival… at any cost.
A journalist wanders the wretched reality of an empty New York, in search for his wife and son.
A serial killer must hunt in a land where prey is now an endangered species.
A mother shields her young daughter from danger, as every breath fills her with terror.
A bullied teen is thrilled to find everyone gone. Until the knock on his door.
A fugitive survives a fiery plane crash. Will he be redeemed, or return to what he's best at: the kill?
An eight year old boy sets out on a journey to find his missing family. What he finds will change him forever.
And there's a few people who aren't surprised that this happened at all. In fact, they've been dreaming about this day for years.
These survivors aren't alone…
Someone or something is watching them.
And waiting…
Strangers unite.
Sides are chosen.
Will humanity survive what it never saw coming?
The only certainty is that Yesterday's Gone."
Empty-Grave Review
Let me preface by saying I had never heard of the writers or series prior to stumbling across them on Amazon. I read the first season of the serialized Yesterday's Gone straight through, so I experienced no downtime between episodes. I am only giving the inaugural season three stars but that rating is solid and borders on four stars.
Yesterday's Gone: Season One consists of six serialized episodes. The first couple episodes are strong and well-paced. I had initially downloaded the free first episode to my Kindle but I only made it about halfway through before shucking out the $4.99 and buying the whole season.  I'm living proof the "free-tease" marketing strategy works.
Platt and Wright use the same structure throughout the entire season. Episodes are broken down into multiple chronological segments, each told from the perspective of one of fifteen different characters. The perspective summary is:
Males – 9
Females – 4
Kids – 1 boy & 1 girl
Other – 2
Episodes consist of roughly twelve segmented perspective changes. In early episodes these shifts are divvied up fairly between characters but as the season progresses we see some characters and story arcs being overrepresented. My primary criticism of Yesterday's Gone is that it promises, and delivers, fast-paced storytelling and cliffhanger episodic endings but the season as a whole grinds to a halt and fizzles out near the end. Each episode's cliffhanger kept me reading but at the end of the first season I did not feel compelled to read season two. I attribute this fizzling to an excessive focus on the least-interesting characters and story-arc at the end.   Boricio, Charlie, and Edward represent 12 of the 24 perspectives in the first two episodes but in the last two episodes they show up only 8 times in the 28 perspective changes.
We should have encountered an oil slick at the end of the first season, sending us careening and out of control into season two, but instead we drove headfirst into a sand-trap. The perspectives at the end are the primary culprit for that slowdown but another contributing factor is that six main characters arrive at a motel at the end of episode two, are joined by two other characters, and the eight of them are still at that motel—and are even monopolizing the perspectives—at the end of episode six. To me that smacks of one thing—filler. And I'm not reading post-apocalyptic fiction to enjoy three episodes of the least-interesting characters playing Uno.
With the criticism out of the way, I'll now address the positives. First off, kudos to Sean Platt and David Wright for working a serialized format and putting indie authors and publishers in such a positive light. They've taken an offbeat end-of-the-world scenario, dropped some exciting characters in, and presented compelling obstacles and challenges. The first few episodes suck readers in with ease and keep us clicking the next-page button.
The writing style is tight and I didn't notice any points where it was glaring and obvious that the writer had changed.  The proof-reading is also excellent. From an editing standpoint, I see a moderate amount of filler that should have been left on the clipboard but I can see how a hectic writing schedule and deadlines result in filler, as it is evident in even some of the best-written television series.
Criticisms notwithstanding, Yesterday's Gone (Season 1) provides a lot of bang for five bucks and it is absolutely worth reading.  It suffers from ebbs and flows but that is characteristic of serialization. I look forward to checking out season two and hope Yesterday's Gone will avoid the other major pitfall of serialized fiction—a story that dallies about, loses itself, and only retires when executives carry it kicking and screaming from the building.
Despite some filler and a lackluster whole-season cliffhanger, Yesterday's Gone sucks readers in with its well-paced, polished story, interesting characters, and new spin on the end of the world concept. Definitely worth a read.
Related Posts: